HART CLUB is temporarily closed due to Covid-19
Please support our first ever crowd funding campaign to create:

Hart School is a 3 month alternative art school that will take place at Hart Club this Summer, designed to be free, inclusive and accessible.
This opportunity is open to adults of all ages and prioritises those who are typically excluded from similar opportunities due to financial barriers and lack of specialised support for disabled artists.

Hart School is an intensive summer school where students and teachers work in a radically inclusive, non-hierarchical, collaborative learning environment that supports participants to develop confidence in their creative practice.

We will provide highly specialised and supported learning with a ratio of one facilitator per two learners. With a superstar team of educators and industry professionals, students will be guided through demonstrations, talks, studio visits and weekly meetings with an Art Therapist.

This is art school - with a difference! One that focuses on enabling and empowering some of the most creative but marginalised people in our society.

What we'll deliver: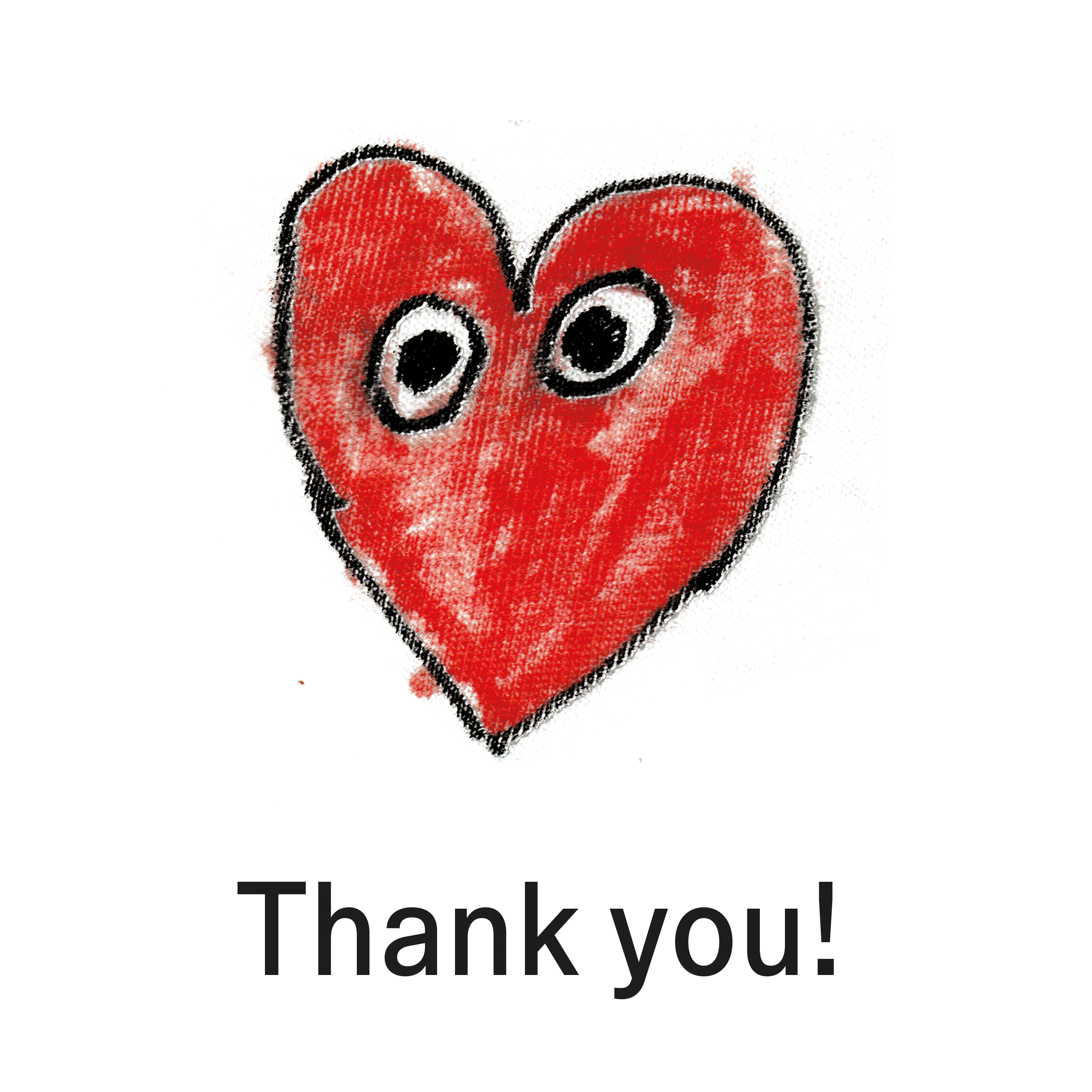 OUR CURRENT OUTREACH PROJECT:
Folk Beasts
is a collaboration between
Hart Club
and
The Golden Thread Project
, exploring the magical and diverse creatures celebrated via folklore throughout time.


Initially conceived as a extensive group exhibition created via artist-led workshops, the current global pause has led us to adapt the concept.

We have invited 17 artists and illustrators to create make-at-home Art Packs, enabling people to participate remotely to create a user-generated online art exhibition that will launch in Spring 2021.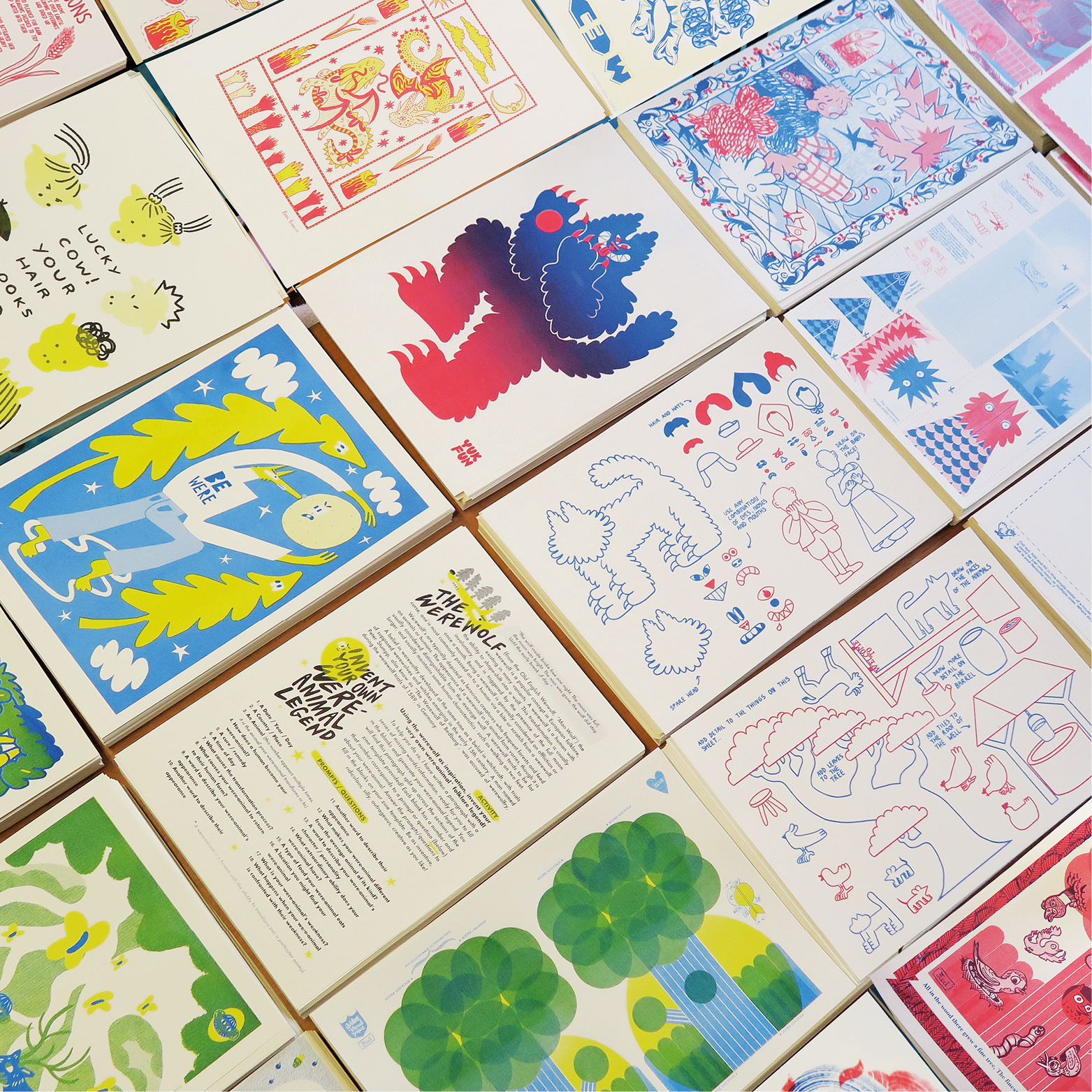 We have combined The Golden Thread Project's extensive knowledge and love for all things folklore with Hart Club's diverse audience to create a magical world full of freshly conceived and reimagined folk beasts.
We have created 100 copies of each pack. That's
1700 free art packs
in total to be distributed amongst our network - this includes people of all ages and backgrounds and artists with disabilities, dementia, brain injury, autism and other neurological variations.
If you work with a charity, outreach project or know someone in particular who would benefit from receiving a free art pack in the post please get in touch:
folkbeasts@gmail.com
Please note: The range in recipient's accessibility needs has been taken into consideration when creating these packs, though some people are likely to need support to complete these projects.
This interpretation of our logo was created by members of the
Camberwell Incredibles, and animated by Giada Pieropan
Hart Club's mission is to champion neurodiversity within the Arts. We commission original artwork and content that focuses on collaboration and celebrating the intersection of ideas and differences in artistic approaches and ways of thinking.
Hart Club provides a platform for neurodivergent artists to access creative and financial recognition for work that so often goes unseen.
We actively facilitate collaboration to explore the benefits of this creative exchange and to
encourage conversation around diversity and inclusion in the Arts and beyond.
@hartclublondon
SELECTED PRESS:
IT'S NICE THAT
RE: Hart Club


Surrey Docks Farm (2018)
Back in October 2017, Helen Ralli collaborated with an organization called
Exceptional Individuals
to curate an exhibition titled
Great Minds Think Different
. Showcasing the work of 30 artists, the focus was on creatives who operate outside the boundaries of neurotypicality. This was the genesis of Hart Club, Helen's south London-based gallery space, which is currently showing work by
Andy Ogungbemile and Donal Sturt
.
While in the process of arranging
Great Minds Think Different
, Helen came into contact with the
Camberwell Incredibles
, a group of 12 diverse adults who've been meeting for around twenty years or so, but up until now have had no public-facing exhibitions. "This inspired me to want to provide a focused platform to champion neurodiversity within the arts, and the final push came when the property owner of the previous space I was running, V3, decided to demolish the building," Helen tells It's Nice That.
The idea is, she says, "to work closely with existing charities and organisations – who run long-standing facilities to support the making of neurodiverse artwork – to provide a space for the results to be publicly exhibited."
The overarching aim of
Hart Club
is to increase visibility of neurodiverse creatives, and to generate positive representation. As Helen says, "People with additional needs are often marginalised from mainstream society. This kind of invisibility or lack of contact promotes categorisation and stereotype. In terms of addressing this, I think that language is an easy place to start: Hart Club does not refer to these artists as having a 'disability', preferring neurodiversity."
Discussing the collaborative nature of the work on display at
Training
, the gallery's first full show, Helen says, "it's a case of the sum being greater than two parts, so bringing people together with very different skill sets to best enhance what each person contributes."
Helen sees the future of Hart Club being one in which the economic realities of making art in 21st century Britain are melded with a humanist, community-minded outlook.
"Whilst Hart Club is not commercially driven, I would love for us to be in a position where we were selling work to provide these artists with an opportunity to be creatively and financially recognised, and seed funds back into the services that support them," she says.
"It would be incredible one day if we were in a position to be involved in the facilitation of the work, as well as its exhibition: an alternative art school, for example!"
Hart Club's current exhibition,
Training
, a collaborative show of work by Andy Ogungbemile and Donal Sturt runs until the 26th of August.
Emeli Sandé, Strawberries and Cream (2018)




ABLE ZINE
Words: Isabella Borholt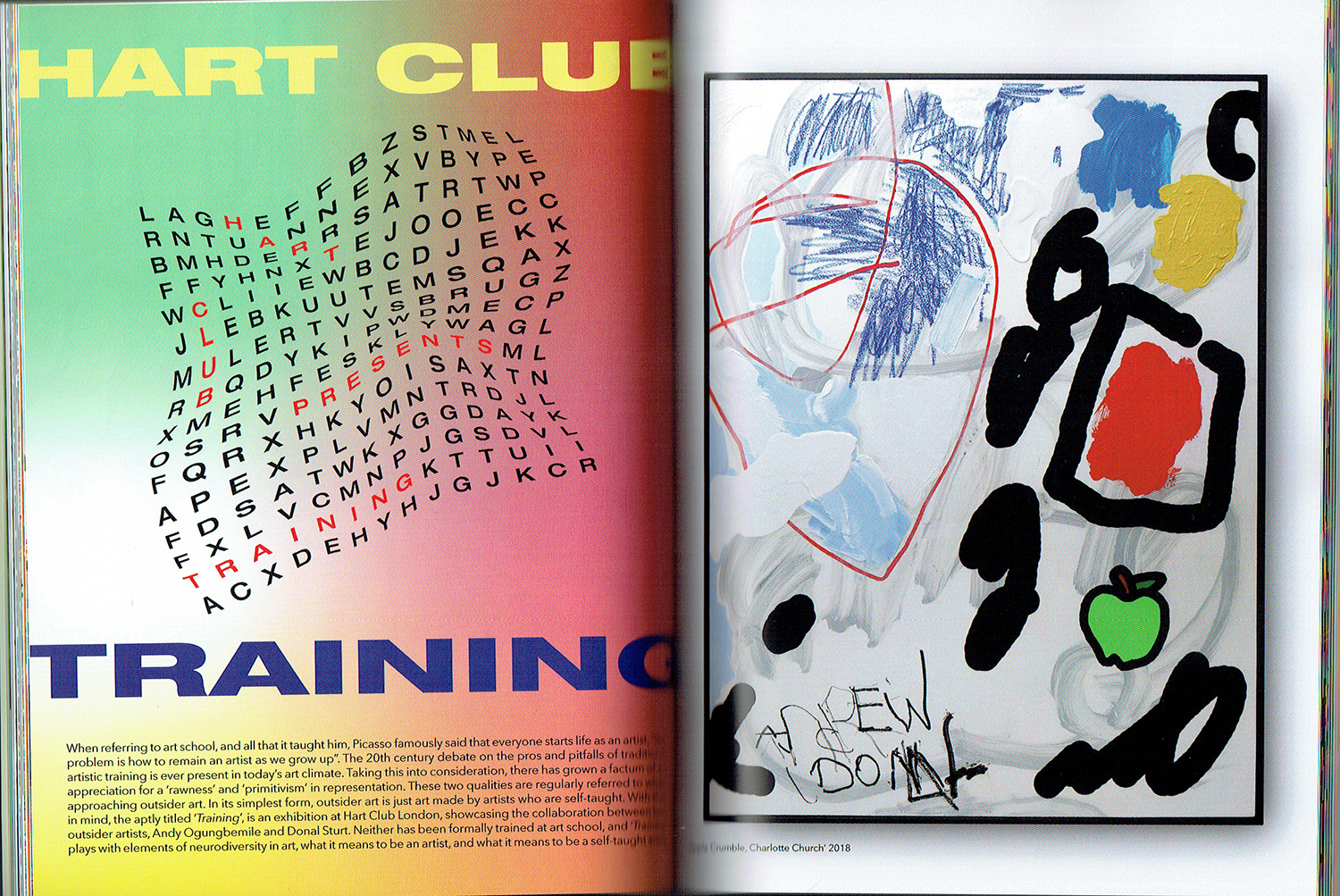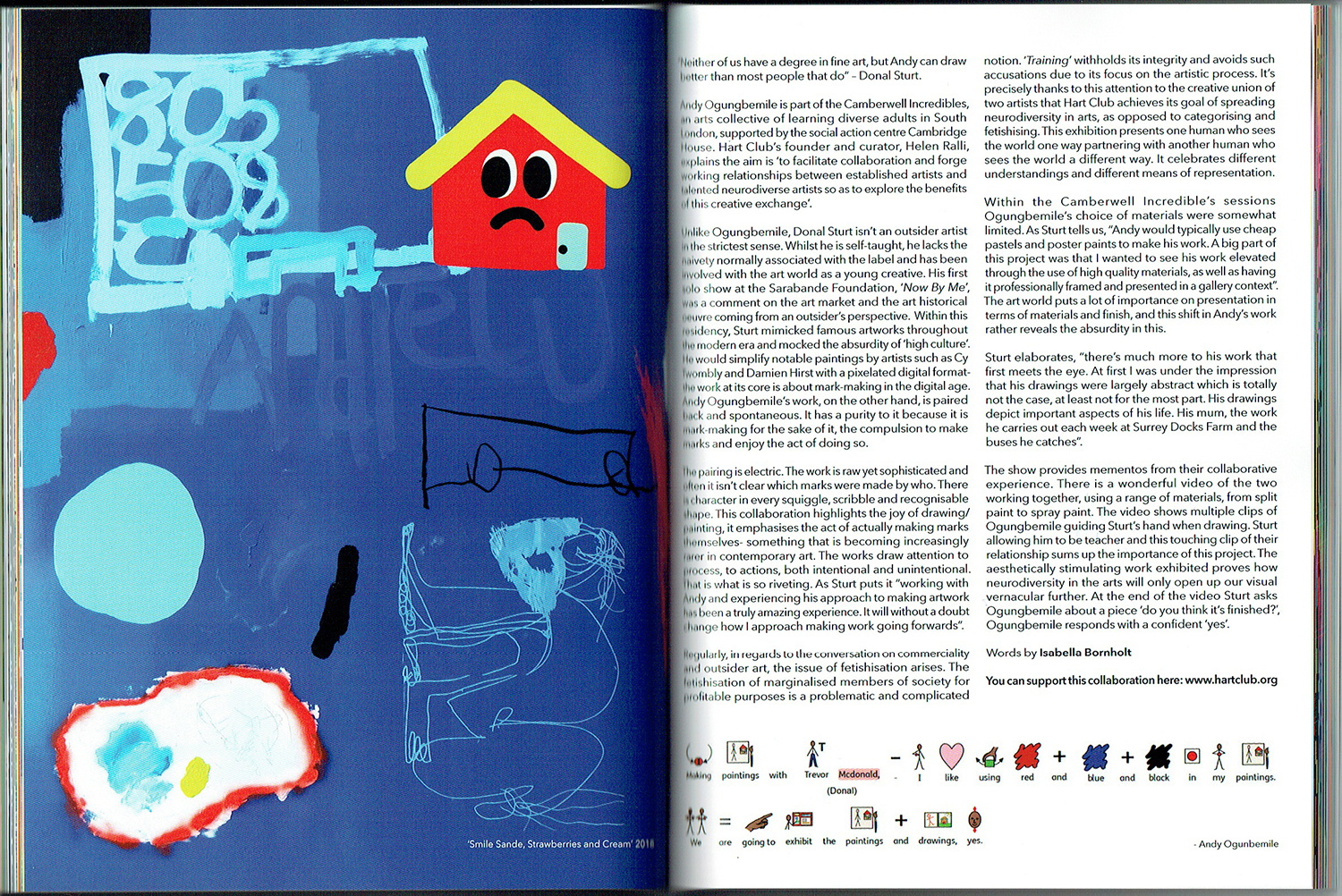 IT'S NICE THAT
RE: Paul Wright



Currently on show at London's Hart Club is a collection of paintings by Paul Wright, an artist whose work injects humour into some familiar characters – such as Peggy Mitchell and Delboy – with an artistic eye that will induce an ear-to-ear grin on any visitor.
Paul has only been painting with confidence for the past year or so, working on his collection of paintings at local east London charity Headway's Submit to Love, "a home to a collective of self-taught artists – all of whom have survived brain injuries." Paul experienced a traumatic brain injury back in 2007 which has since affected his short-term memory, movement and communication. Nevertheless, as Laura Owens of Headway tells It's Nice That, "his sense of humour and cheeky nature are still very much intact," she says. "Set him down with some paints and this flows onto the page; transporting you to the world of retro, nostalgic, comedic characters who have shaped his life."
Culminating in this solo show of Paul's titled
Carry on Delboy
, the artist has been working with
Hart Club
, a gallery space which aims to increase the visibility of neurodiverse creatives. Founded by Helen Ralli, the idea for an exhibition of Paul's work began a few months ago, with Helen noting how "it was the incredible Submit to Love staff and volunteers who enabled Paul's confidence and personal style to emerge," she tells us. "I think having the focus and goal of an upcoming exhibition provided some motivation that in turn helped to develop his practice, which confirms for me the importance of public-facing outlets such as Hart Club."
In terms of stylistic tendencies, Helen describes the works on show at
Carry on Delboy
as "bold, playful and assured," despite Paul's relatively short artistic career to date. "He doesn't seem to question or criticise his mark-making and works with a directness that is not easy to achieve or imitate," she continues. "The work feels totally uninhibited and the joy that Paul's subjects bring to him personally he really manages to capture, translate and gift to the audience."
At the time of speaking to Helen,
Carry on Delboy
had been open for a few days, but already "the response is exactly what I'd hope for," she explains. "The life in these characters jump from the work to the viewer and everyone walks around the show with a smile." To experience the show for yourself, this "exhibition of nostalgia" will be on show until 3 November and open every Thursday to Sunday.
It is also worth noting that organisation such as Hart Club and Headway rely on volunteers for exhibitions such as this to take form, and as Helen points out, "I hope people realise that opportunities do exist where you can exchange your time for the privilege of working with individuals such as Paul." If you are looking to get involved further information on how to work with Headway can be found
here
, as well as Hart Club
here.