Yayoi Kusama has long since been an unavoidable figure in the world of contempory art. Kusama's work continues to be disaplyed world-wide drawing in endless crowds of art lovers. Her current exhibition at the Tate is no diffrent, being sold out until September 30th. Hart School students and the wider Hart Club team were invited along to an evening preview of the exhibition, to experience the installations and artworks in an inclusive, comfortable setting.
This exhibition features one of Kusama's largest works Infinity Mirrored Room – Filled with the Brilliance of Life made for her 2012 retrospective at Tate Modern; it is shown alongside Chandelier of Grief, a room which creates the illusion of a boundless universe of rotating crystal chandeliers. It was a privilege to view the works without the typically large crowds and to allow ourselves the space and time to observe the works without distractions.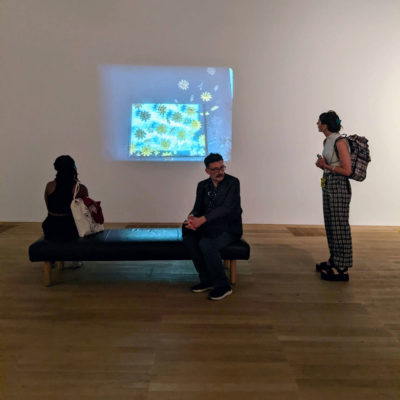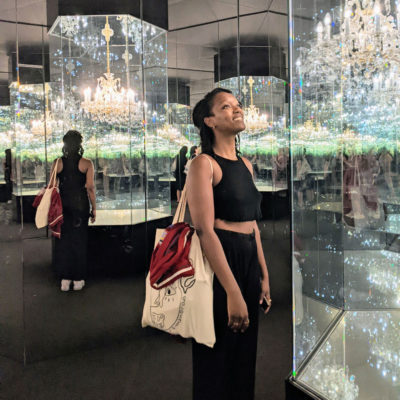 Born in 1929 in Matsumoto, Japan, Kusama came to international attention in 1960s New York for a wide-ranging creative practice that has encompassed installation, painting, sculpture, fashion design and writing. Since the 1970s she has lived in Tokyo, where she continues to work prolifically and to international acclaim.
Alongside Kusama's installations, there was a presentation of photos and videos – some having never been shown before – that provided context to Kusama's growth as an artist, exploring her early work and her first time visting the USA. It was eye opening for us to learn more about the artists history, and experiences to give historical context for the global phenomenon that Kusama's mirrored rooms have become today.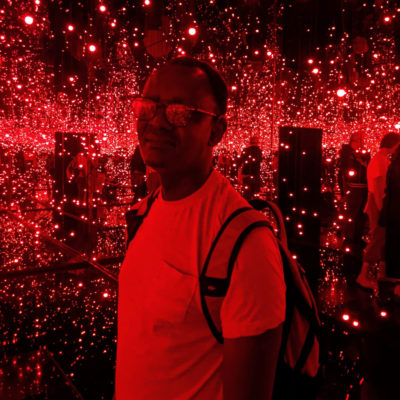 "The immersive installations transport you into Kusama's unique vision of endless reflections."
Accessibility at the Tate Modern
Welcomed into an empty gallery, our small group of Hart Club members were shown to the exhibition, with a small table outside of the display offering ear protectors and communication cards. The Tate's accommodation for the disabled and neurodivergant members of our party is a welcome change to those spaces that refuse to spend the money to allow for non-neurotypicals to enter their space.
With the small spaces of Kusama's work potentially inaccessible to some members of our group, Hart Club is grateful for the opportunity to experience these incredible spaces, irregardless of disability.
Thank you to the Tate Modern for having us!